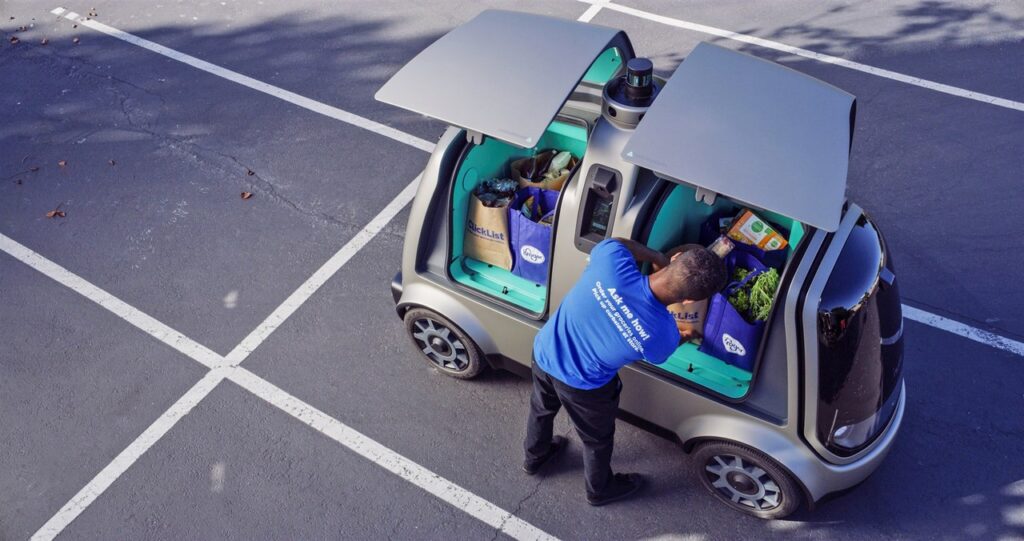 Love your trips to the grocery store? You may soon enjoy a "Joy Ride" next time you need to pick up your milk from the local grocery store. With the launch of Instacart, the online grocery ordering app, we experienced a whole new level of convenience. Instacart enabled a quick and easy way to stock your fridge with groceries without stepping out of your house. Instacart members can enjoy their favorite TV Shows while a personal shopper runs through your grocery list and delivers them to you within a very short time interval. The Instacart service however is not free and users have to either pay a delivery fee or sign up for an annual membership package.
Seeing Instacart's success, most major grocery chains including Kroger, Meijer and Target have launched their own "Groceries App". These chains intend to serve their customers better by offering in-store pricing and other coupons that are not available to Instacart users. Grocery delivery services have exploded in the recent past with several other Instacart competitors such as Postmates and Shipt (Acquired by Target). Postmates recently tied up with Instacart in addition to being a preferred partner for Walmart's grocery delivery service. Shipt has tied up with major grocery chains such as Safeway and Vons to enable grocery delivery. The delivery model for the online grocery services has relied on "Runners" or individuals who "Run" through stores to pick up groceries on your behalf.
Instacart may have pioneered online grocery ordering and delivery. However, the grocery delivery market is about to witness another transformational shift that should immensely benefit shoppers. Grocery stores are looking to self-driving cars to literally roll-out the "Red Carpet" to have you come into the store. Waymo, Google's former self-driving car business, recently announced a partnership with Walmart to offer customers a "Self-Driving" car that will not just pick up your groceries for you but also pick YOU up at home and bring you safely back home. Grocery giant Kroger partnered with Silicon-Valley startup Nuro that provides an autonomous vehicle that picks up your groceries and delivers them home to you. Users can unlock the "Nuro" vehicle using a pre-defined code. Initially, Kroger will leverage Nuro to deliver in areas where it doesn't offer delivery services. However, I believe Kroger will look to replace it's Delivery service powered by Instacart with it's own fleet of Nuro vehicles.
The value proposition for grocery delivery powered by autonomous vehicles is high for both the grocers and the users. Grocers stand to gain by owing the "last mile of delivery" giving themselves more control over the customer experience while also owning the data regarding the delivery time/preferences etc. Users may benefit from either "no fees" or "lower delivery fees". Walmart's approach is intriguing as they are focused on "bringing customers into the store" in a self-driving vehicle where as Kroger is trying the opposite- sending groceries home. Walmart's strategy may drive further "impulse" purchase in non-grocery areas and lead to an overall increase in sales across multiple categories. Kroger's approach may not lead to more 'in-store' sales but it will be interesting to see if the "Nuro" vehicle may carry a few "convenience" items that one may have forgotten to order with their milk- e.g. eggs eventually leading to a larger average order value.
Autonomous vehicles will unleash a plethora of disruption well beyond grocery delivery. While initial self-driving use cases are surfacing in the food and grocery delivery domain, they hold immense potential to transform our everyday lives. From delivering medicines from your local pharmacy to picking up your dry cleaning, autonomous delivery is all set to revolutionize local commerce.
Interested in getting a glimpse of the Disruption Crystal ball? I recently launched "Disrupt Camp" a think-tank community focused on researching the latest trends and disruption enabled by digital technologies. Apply to be a part of our think-tank comprised of futurists dedicated to helping Corporate Leaders & Startups drive disruptive innovation www.disruptcamp.org